Certificates & Affiliations
Ben Bridge is actively involved in a host of community organizations in both our local communities and the jewelry industry. It is our philosophy to contribute and support organizations in which we believe.
American Gem Society
We are proud and active members of the American Gem Society, an organization dedicated to consumer protection, standing for high ethics and ongoing education. Only 1 in 20 jewelers in the country have met their high standards. Ben Bridge has been a member for over thirty years and is honored to have more Certified Gemologists of the American Gem Society than anyone else.
Learn More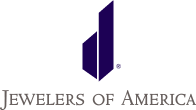 Jewelers of America
More than a century ago, Jewelers of America was founded with a desire to advance the professionalism and ethics of the jewelry industry. As members of Jewelers of America, Ben Bridge is among the members that stand as the most trustworthy, informed and professional jewelry businesses within United States.
Learn More